Spring Bed
Everest Optimum Spring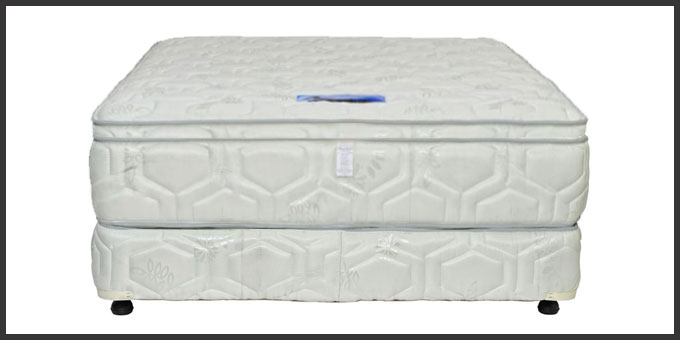 EVEREST OPTIMUM SPRING BED
The Chiropractic Bed
After careful study and years of experience in bed manufacturing, now comes the Everest Optimum Spring Bed – the ultimate solution to health and comfort developed by DEWFOAM.
It is known as the Chiropractic Bed because of its unique features and benefits that optimizes good health and well-being. It gives personalized control of the structural body support you need as an individual. It decreases surface pressure and improves body posture that helps relieve lower back pain, neck pains, headache and even reduce high blood pressure.
FEATURES
Everest Optimum Spring Bed has twice the number of individual springs than any other bed mattresses. More springs give more comfort. The unique formation of springs enhances comfort and body support. The individual springs are carefully intertwined using Helical Wires to effect an improved level of contouring to our irregular body shape.

It is also accentuated with Dewfoam pillow top that conforms to body contouring zones. With the aid of Optimum Springs developed only by DEWFOAM, these zones not only give more support where needed but also stabilizes the sleep surface thus providing the needed comfort and support for a more restful sleep.
ADVANTAGES
Everest Optimum Spring Bed provides the right mattress and bed system thereby giving almost "zero-stress" to our muscular and skeletal body structure. Optimum spring is exclusively designed to decrease surface pressure on hips and shoulders when we lie down. Quality bed mattress like Everest Optimum Spring Bed minimizes stress on our body and bone structure. It controls the level of support you need according to your body weight and shape, allowing you to maintain a desired postural alignment and relaxation of the spinal muscles.
BENEFITS
As they say, prevention is better than cure. Everest Optimum Spring Bed helps:
Prevent osteoporosis or skeletal deformity

Prevent neck pains of stiff neck

Prevent poor blood circulation

Prevent interrupted breathing

Prevent cross-motion disturbance

IN THE KNOW . . . Why Chiropractic Bed?
The chiropractic system is based on the premise that the spine is literally the backbone of human health. By definition, chiropractic is a method of treatment that manipulates body structures, especially the spine, to relieve low back pain or even headache or high blood pressure. Misalignment of the vertebrae caused by poor posture result in pressure on the spinal cord, which may lead to diminished function and illness.
Our body encompasses a complex system of vertebrae, discs, joints, muscles, tendons, ligaments and nerves including our spine that only works well in an upright position. The moment we lie our body down, the spinal components are prone to considerable amount of stress and tension, especially when using a bed that fails to provide the needed back support. Continuous lack of proper back support aggravates an existing "bad-back" condition leading to chronic pain problems.
For optimum health, we need to support the spine in the zero-stress position as experienced in correct standing position. Sleeping on an "incorrect" bed may lead to progressive weakening of the spine structure. This very concept inspired DEWFOAM to develop a proactive and preventive approach in manufacturing sleep-related products that gives special attention to the physiological aspects of an individual including structural, spinal and musculoskeletal.
Therefore, we should seriously consider choosing the right bed with orthopedic and chiropractic attributes needed to maximize back care support. This means having quality bed mattress which will minimize muscular and skeletal stress.